Events O'Neill - Burrows Drive Day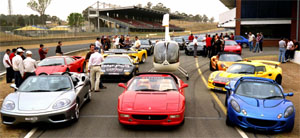 The Burrows Drive Day is an invitation only event dedicated to helping drivers learn more about the capabilities of themselves and their vehicle in a safe and controlled environment. All of our events are strictly non-competitive and are set up for people to use their own road going vehicle on the circuit. Added to this is the driving instruction from professional racing drivers to help all who attend understand not only the track and its intricacies, but also their cars and how to handle them at speed.

So if you're fed up with speed humps, cameras and traffic, this is your chance to go and play! Contact Luke at www.eventsoneill.com or call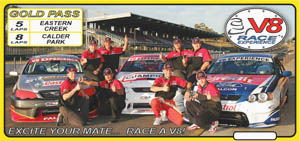 V8RACE Experience
Searching for the perfect gift? Here's something special that's exciting, memorable, easy to organise and affordable. Imagine driving one of these V8RACE cars at Eastern Creek for only $299! The V8RACE Experience includes pre-drive tuition, use of race suit and helmet, your own in-car coach and driving 5 furious laps at Eastern Creek - and leave with a photo certificate to prove it to your mates. Excite your Mate… Race a V8!

For more info see www.V8RACE.com or phone 03 9427 9531.

Australian Superbike School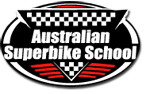 Australian Superbike School conduct regular Ride Days at Eastern Creek Raceway. The joy in riding your motorcycle around a racetrack comes from the fact that you are in a controlled environment. There are no cars, trucks, kids on bicycles, old ladies in Volvo's with bowling hats doing u-turns etc. To view a movie clip of a lap of ECR, click here (5Mb so it may take a while).
Visit their web site: www.superbikeschool.com.au

Currently scheduled Ride Day events are listed on the Calendars page.