The Skid Pan
Situated in the Eastern Creek Raceway competitors paddock the Eastern Creek SKIDPAN is Sydney's largest purpose built SKIDPAN.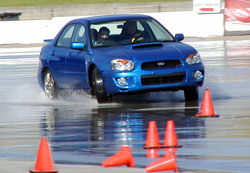 The 2 1/4 acre 148 metre x 61 metre polished cement SKIDPAN is automatically flooded through steel grates with water pumped from a dam.
As a stand alone SKIDPAN it can run independently from the road race circuit. A sheltered viewing area is located at the western end of the SKIDPAN and air-conditioned lecture rooms are nearby.
With 9,156 sq metres of slippery surface the Eastern Creek Raceway SKIDPAN is a safe facility for….
DRIVER EDUCATION
RIDER EDUCATION
PRODUCT LAUNCHES
TYRE AND VEHICLE TESTING
PHOTO AND FILM SHOOTS
HOT LAP SLIDE RIDES
DRIFTING CONTESTS
MOTORKHANAS
For further information regarding the Skid Pan email us here

AUSTRALIAN RACING DRIVERS .
3. Phone: